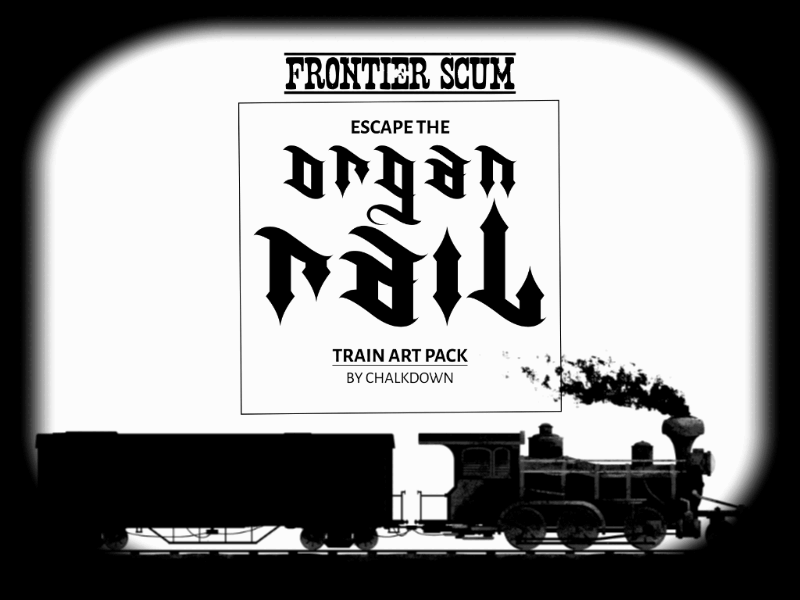 Escape the Organ Rail - Train Art Pack
SPOILER ALERT!
Escape the Organ Rail Train Art Pack for printing or putting in a virtual tabletop!
EtOR is the starter adventure for FRONTIER SCUM by Karl Druid, available in the back of the core book.
This pack includes the train map from the adventure in higher resolution:
By Chalkdown!
Print it out and surprise your players!
Add it to a virtual tabletop of your choice!
Have a rootin' tootin' good time!
This pack DOES NOT INCLUDE the adventure itself (that's available at the back of the core book)!
---
You are prisoners aboard the Organ Rail, a penal train clad in black iron, spewing blood-red smoke as it rattles across the tracks of the Big Nothing. Rumors say its belly-vault contains the confiscated swag of a thousand robberies gone wrong.
The next stop is Fort Gullet, where you'll be hanged for your crimes, so you better get a wiggle on! To get out alive, you'll need enough supplies to get you across the sweltering sands to the swamp-oasis of Sickwater; no straight-shootin' lawfolk would ever set foot in that veritable rat's nest of thieves and outlaws. Yup, that's your only chance.
Of course, it couldn't hurt to have a look in that vault while you're here … could it?

---
FRONTIER SCUM is © 2022 Den of Druids
Download
Click download now to get access to the following files:
EtOR Train Art Pack.pdf
5 MB
EtOR Train Art Pack.zip
4 MB