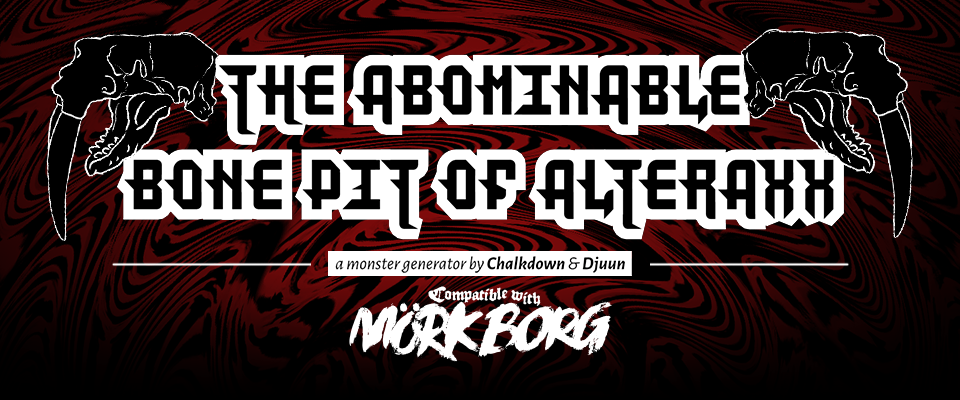 The Abominable Bone Pit of Alteraxx - for MÖRK BORG
A downloadable monster generator
Centuries ago the bone-sculptor Alteraxx stalked the land with his dread Danse Macabre collecting materials to perfect his craft. When his mortal body withered and languished, his spirit remained amongst the debris of a thousand skeletal minions. With time, this unholy site coalesced into the Abominable Bone Pit, a phenomenon that appears throughout the lands seemingly at random but with singular purpose - to swell the ever-growing pile of material needed to fuel its unending tide of cursed creations.

A monster generator for MÖRK BORG spawning terrible abominations into the dying world, over 300 different variations!
---
Developed for the Mörk Borg discord community project "The Occult Ossuary".
The Abominable Bone Pit of Alteraxx is an independent production by Chalkdown & Djuun and is not affiliated with Ockult Örtmästare Games or Stockholm Kartell. It is published under the MÖRK BORG Third Party License.
MÖRK BORG is copyright Ockult Örtmästare Games and Stockholm Kartell.
Download
Click download now to get access to the following files:
The Abominable Bone Pit of Alteraxx v2.pdf
1 MB